OUR STORY
We don't have one story because this issue is everywhere. It's about all of us. All of us who have stories of disrespect and unhealthy relationships. All of us who have watched friends suffer from sexual violence or abuse. Those of us who may not have a direct experience are still committed to educating others on what it means to ask for and receive respect. We all have the right to be red and to change ourselves to green on our own terms. Here's why:
Katie Koestner, Executive Director, Campus Outreach Services
Katie Koestner is a national expert on student safety and technology issues.  She has appeared on the cover of TIME Mag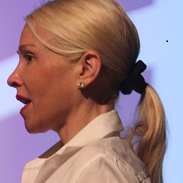 azine, The Oprah Winfrey Show, NBC Nightly News, CNBC Talk Live, CNN, Larry King Live, Good Morning America, Later Today, MSNBC, Entertainment Tonight and other national television programs.  She is the subject of an HBO movie and has lectured at over 2000 schools in North America.  Her audiences have included the incoming classes at MIT, Brown University, West Point, the US Naval Academy, Amherst College, Williams College, the top 200 officers of the Department of Defense, and the American Association of School Administrators.  In 2010, the US Ambassador to India invited Katie to keynote and lead a 19-day campaign in India to raise awareness about Violence Against Women.  In 2011, Ms. Koestner's Foundation, Take Back The Night, was chosen by the TV Show, The Good Wife, as their charity of choice for their Celebrity Golf Tournament.  The Girl Scouts of America selected Katie, Katie Couric and a handful of others as honored women to present for their 100th Anniversary Celebration.   She has assisted the US Department of Education in developing and providing programs to women in high risk communities.   Her testimony on Capitol Hill was instrumental in the passage of federal student safety legislation.  In 2007, Coe College awarded her an honorary doctorate for her extensive work on student safety and public service.  In 2015, the US Department of State chose Katie to work with a delegation of Chinese diplomates at the United Nations on strategies to reduce sexual and relationship violence.
Amanda Blaugher, Program Director, Take Back The Night Foundation
Amanda Blaugher serves as the Program Director for the Take Back The Night Foundation and is the Assistant Director of Residence Life at Penn State Harrisburg. Amanda oversees national campaigns such as 10 Points of Light and Respect My Red for the Take Back The Night Foundation.  She works with school, colleges, and communities to help them organize their walks, runs, vigils and other programming components.  She is the Conference Program Coordinator for Respect is Red:  The International Summit to End Sexual Violence. Amanda works tirelessly to assist event holders around the globe with planning and organizing their walks, runs, vigils and educational programs. Holding a Master's Degree in Counseling from Shippensburg University, Amanda has been committed to raising awareness about all forms of sexual violence since she was a college student, at which time she created a Women's Empowerment Program that oversaw all programming efforts on campus around sexual violence and healthy relationships. She has presented to over 200,000 students and professionals at more than 100 colleges, universities, military bases, corporations, non-profits and high schools across the country on sexual violence and healthy relationships.